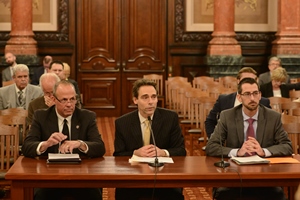 SPRINGFIELD – Rockford Mayor Tom McNamara joined State Senator Steve Stadelman (D-Rockford) in the Illinois Senate Revenue Committee to testify in support of legislation that would make it easier for developers to invest in downtown Rockford.
Stadelman's proposal, Senate Bill 3527, adjusts River Edge Zones in Rockford, Aurora, East St. Louis, Elgin and Peoria to provide additional incentives for redeveloping these communities.

"These tax credits have a proven record of spurring economic growth in areas like downtown Rockford," Stadelman said. "These additional changes will promote even more economic development in our communities."

Under Stadelman's proposal, developers would be eligible for a one-time 25 percent credit of the eligible expenses of the project. They would also be subject to additional oversight to ensure they qualify for the tax credits.
The legislation passed the Illinois Senate Revenue Committee with a vote of 6-0. It will now be heard by the full Senate.
#####
Category: Press Releases