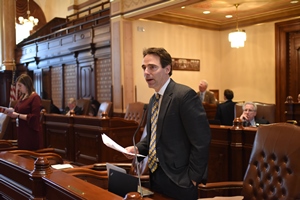 SPRINGFIELD – In many school districts, students who are unable to pay for lunch can be stigmatized with a special wristband or handstamp, and in some cases – even denied lunch.
To stop this practice known as "lunch shaming" in Illinois, State Senator Steve Stadelman (D-Rockford) passed Senate Bill 2428 through the Illinois Senate.
"Forcing students to go without lunch is punishing them for the mistakes of their parents," Stadelman said. "All students, regardless of their parents status or income level, deserve to have a hot lunch."
Under Stadelman's proposal, every school will be required to provide a meal to a student that requests one. While the school can contact the parents directly to request they pay for the child's lunch, they are prevented from throwing the meal out, forcing the student to wear a wristband or otherwise stigmatizing them. If the school district is owed $500 by a student's parents and they have made a reasonable effort to collect the debt, the district can request the Illinois Comptroller withhold tax refunds from parents to pay off the debt.
"As a state, we can't force students to sit through class hungry and expect them to learn," Stadelman said. "This plan ensures all students will be given an opportunity to succeed instead of being forced to learn on an empty stomach."
The proposal passed through the Illinois Senate with a vote of 41-9-1. It will now head to the Illinois House of Representatives for consideration.
Category: Press Releases