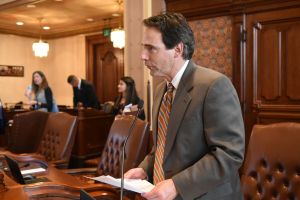 SPRINGFIELD – The Illinois Senate passed a resolution Monday to create a task force to study creating a 24-hour nurse hotline, to give sick Illinoisans a second option to consider instead of immediately heading to the doctor.
The resolution was sponsored by State Senator Steve Stadelman (D-Rockford) and passed unopposed with a vote of 51-0.
Stadelman was inspired to sponsor the legislation by the state of New Mexico, which created a 24-hour nurse hotline in 2006. As of 2015, nearly 1.5 million residents, or nearly 75 percent of state residents that are of legal age have called the hotline with health questions. Before the hotline was implemented, many of these callers were forced to go to the emergency room for minor medical treatment.
The nearly 15,000 calls the hotline receives every month takes a tremendous toll off of emergency rooms, and saves the state of New Mexico about $41 per call. Over time, these savings have added up – to the tune of about $68 million.
"Creating a 24-hour nurse hotline could be an innovative solution to keeping patients out of emergency rooms and cutting down the state's medical costs," Stadelman said. "In this difficult budgetary environment, we need to look at all of the options available to save taxpayers' money."
Stadelman's resolution, Senate Joint Resolution 44, will now head to the Illinois House.
Category: Press Releases