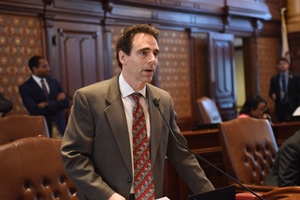 SPRINGFIELD – With the increase of cashless tolls in Illinois, State Senator Steve Stadelman (D-Rockford) advanced a proposal that offers protection for rental car drivers. After returning a rental car, many drivers may be surprised to find they were charged additional fees for a tollway collection device, similar to an I-PASS. Stadelman advanced a proposal through the Illinois Senate this week to allow rental car drivers to opt out of these devices.

"Drivers deserve to be aware of the option to use these costly tollway devices up front, instead of finding out about these costly fees later," Stadelman said.

Under Stadelman's proposal, rental car companies must provide renters the option of using the tollway collection device. If a company fails to offer a customer the ability to opt-out, the fees are capped at $2 per day that the device is used, in addition to the cost of the tolls.

"Many drivers are unaware they can avoid paying these fees by using their own transponders, paying cash or paying the fees online," Stadelman said. "Informing them they have the option to opt out will help them make the most financially beneficial decision."

Stadelman's proposal, Senate Bill 2522, passed through the Illinois Senate with a vote of 49-0. It will now head to the Illinois House of Representatives.
Category: Press Releases