Published: 04 September 2020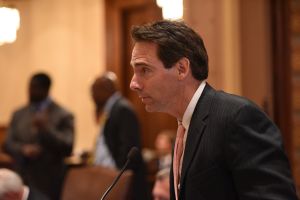 ROCKFORD – With winter approaching, the Illinois Department of Transportation is now accepting applications for seasonal snow-and-ice removal positions, and State Senator Steve Stadelman (D-Rockford) is encouraging qualified individuals to apply.
"During the winter months, snowplows keep the people of Rockford safe," Stadelman said. "I encourage anyone who has been seeking a new job opportunity in these uncertain times to see if they qualify to be a driver for this season."
Through the department's annual "snowbird" program, snowplow drivers are temporarily hired full-time and on an on-call basis. To be considered, applicants must have a commercial driver's license. A pre-employment physical, vision test, and drug and alcohol screening are also required.
Applicants will be selected based on availability, job-related experience and qualifications. Stadelman strongly encourages veterans to apply.
"With plenty of snowfall each year, this is a great opportunity for individuals in a city like Rockford. We rely on these drivers to live our day-to-day lives," Stadelman said.
For additional information, including positions and the application process in specific districts, details on pay and the potential for benefits, click here.
Category: Press Releases