Rockford schools receive windfall thanks to Stadelman-backed plan
Rockford and Harlem public schools will receive an additional $9.3 million for the current school year, thanks to a new school funding plan backed by State Senator Steve Stadelman. The new evidence-based plan sends additional dollars to schools with less access to local resources.

While projects had been previously available, the Illinois State Board of Education this week released the final dollar amounts school districts will receive. According to ISBE, Rockford School District will received nearly $8.6 million more, while Harlem Unit District will receive an additional $772,000. Payments to school districts are expected to begin next week and continue through the rest of the fiscal year.

"Thanks to hundreds of bipartisan committees and the hard work of students, educators and parents, this is an historic time for Rockford and Harlem schools. The new formula offers our schools the stability the need to educate future generations," Stadelman said.
• Rockford Register Star article

'Chalk Talk' tour stops at Rockford's Whitehead Elementary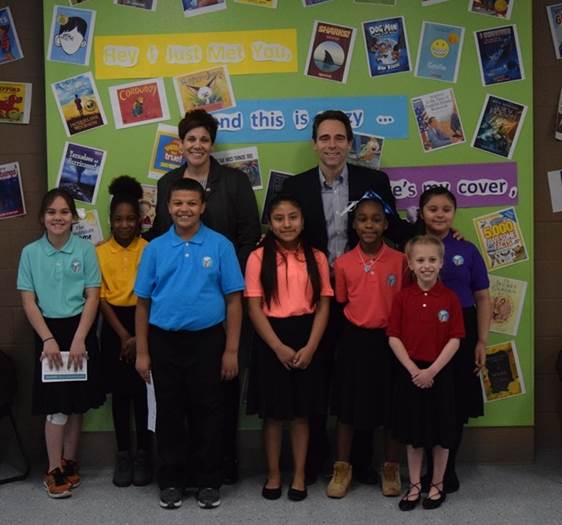 State Senator Steve Stadelman accompanied colleague Jennifer Bertino-Tarrant, the new chairwoman of the Illinois Senate's education committee, last week as she continued her statewide "Chalk Talk" tour of schools at Whitehead Elementary School in Rockford. Seven student ambassadors (pictured below) led Bertino-Tarrant and Stadelman on the tour, showing off recent gymnasium upgrades, innovative art and music classes and 40,000 new library books. among other highlights.

Bertino-Tarrant, D-Plainfield, took particular interest in the proactive steps Rockford School District is taking to alleviate local teacher shortages by partnering with Rockford University to provide incentives and training to high school students who would like to learn and work in the community. One of her legislative priorities for the education committee is overhauling the teacher's licensing process to attract new teachers and provide a better support system.

Rockford Superintendent Dr. Ehren Jarret expressed gratitude for the lawmakers' time and attention

"As a district, we appreciate their support for both Title I reform and Evidence-Based Funding, because both are critical to our students," Jarret said. "We're looking forward to working more with Sen. Bertino-Tarrant to sustain the commitment to the new state funding model, as well as addressing pressing issues, like teacher and substitute teacher shortages.

Rockford and Harlem public schools will receive an additional $9.3 million for the current school year under the new evidence-based formula championed by Stadelman and Bertino-Tarrant and passed into law last year.

"Today's tour of Whitehead Elementary reinforced my understanding of the tremendous work our teachers and principals do as they deal with the many challenges in today's classrooms," Stadelman said. "The newly overhauled school funding formula I supported will begin to bring to Rockford the resources necessary to meet those challenges."

Bertino-Tarrant said she was impressed with the tour and noted on-site visits like this one put her new role as education committee chairwoman into perspective. "Students of Whitehead Elementary demonstrate passion and take extreme pride in their school, and it is contagious," she said. "I'm extremely grateful for the opportunity to meet with such impressive students to see what their school day looks like."
Senators prepare for possibility of legalizing sports betting in Illinois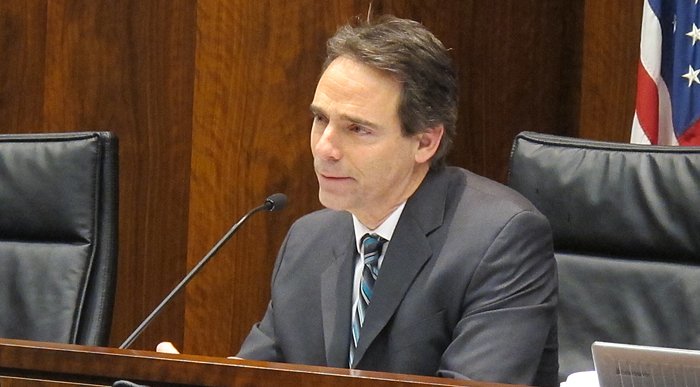 CHICAGO -- Senators heard expert testimony this week on what legal sports betting could look like in Illinois at a Senate Gaming Committee hearing chaired by State Senator Steve Stadelman. The hearing comes as the U.S. Supreme Court considers a decision to overturn a federal ban on sports betting.

"We know people are already participating in sports betting illegally," Stadelman said. "If the federal ban is overturned, this is an opportunity for us to create a regulated, legal market in Illinois that brings in revenue and keeps us competitive with our neighboring states."

National and international experts delivered testimony at the hearing on how to regulatory frameworks to best implement a sports betting system in Illinois.

Chris Grove of Unikrn, a sports betting company in Las Vegas, testified that legal sports betting in land-based casinos and on mobile devices would generate $681 million in revenue yearly. Grove urged the committee to consider legalizing sports betting, saying Illinois risks losing tourism and business to neighboring states if it does not.

Will Green, senior director of research at the American Gaming Association, said the state should avoid regulations that create burdensome costs so that the legal industry can compete with the black market.

"People are used to shopping around for the highest payout," Green said. "We cannot pretend as if the illegal market does not exist."

Currently three bills that concern legalizing sports betting in Illinois have been proposed:
• Senate Bill 2478, sponsored by Stadelman, creates the Sports Betting Consumer Protection Act, which authorizes a state agency to oversee sports betting in Illinois.
• Senate Bill 3432, sponsored by Senator Napoleon Harris III, authorizes sports betting if the federal ban is overturned and puts in place licensing fees for sports wagering platforms.
• Senate Bill 3125, sponsored by Senator William Brady, requires the Illinois Racing Board to regulate sports betting at racetracks and off-track betting locations.
Category: Week in Review