Published: Wednesday, March 02, 2016 05:24 PM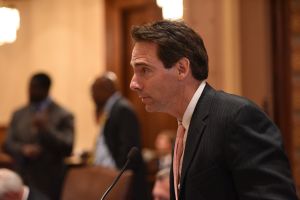 SPRINGFIELD – Days after the Rock Valley College Board of Trustees announced it may be forced to raise tuition on students because of the ongoing state budget impasse, State Senator Steve Stadelman (D-Rockford) voted to override Gov. Rauner's veto of funding for the college.
Because of the governor's veto, Rock Valley College has yet to receive any funding for FY16. In December, the college also issued layoffs to 30 employees.
"How high will Rock Valley College have to hike tuition before the governor realizes higher education has to be a priority for Illinois? We cannot continue to hold students and employees hostage because of these ongoing political games in Springfield," said Stadelman.
The legislation, Senate Bill 2043, also provides funding for MAP grants for middle- and low-income students to help pay for higher education. In 2015, there were more than 1,700 recipients of MAP grants in the Rockford area alone.
Despite the ongoing budget crisis, the state continues to collect taxpayer money. Stadelman believes these programs should be a priority.
"We need to focus on prioritizing the funding we have to invest in education. The governor recently proposed the largest education bill for K-12 students in state history. He should show that same commitment to all Illinois students," Stadelman said.
The veto override now heads to the Illinois House.
Category: Uncategorised