Published: Monday, August 22, 2016 10:22 AM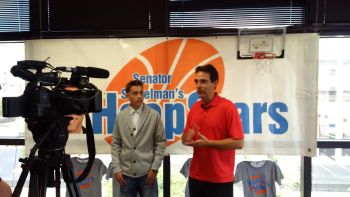 ROCKFORD – State Senator Steve Stadelman is expanding his popular Labor Day basketball tournament to include a drive to collect gently used athletic shoes for needy young sports enthusiasts.
Now in its fourth year, the free 3-on-3 competition also is adding two more courts to accommodate an anticipated increase in players over the 400 who participated in 2015. Boys and girls in 3rd through 8th grades will face off on 10 courts in Davis Park during Senator Stadelman's HoopStars 2016.
Registration is open until Aug. 31 at www.senatorstadelman.com/hoopstars.
Stadelman announced at a Sunday news conference that HoopStars has teamed up with Sole Ballers to supply "legit kicks" to kids from low-income families. Christian Life High School sophomore Treye Tucker has collected and distributed 500 pairs of athletic shoes since he founded Sole Ballers as a 7th-grader.
Tucker joined Stadelman in inviting the public to visit the HoopStars event, watch a game or two and drop off spare athletic shoes. Players' families also were encouraged to donate shoes for any sport in reasonably good condition.
"I'm grateful to be able to offer a positive, no-cost, end-of-summer activity for kids, especially those from inner-city neighborhoods," Stadelman said. "With the shoe drive, I'm asking those who can to help pay that generosity forward."
Families attending the tournament may again enjoy music and kids rides courtesy of Rockford United Labor, which holds its annual picnic for union members at the same time and place. Event sponsors also operate interactive courtside information booths with giveaways, and all players receive free commemorative event T-shirts.
Category: Press Releases