Published: Friday, July 22, 2016 05:10 PM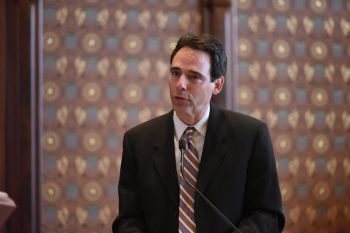 SPRINGFIELD – Legislation that will require law enforcement officials to accept cash to post bail was signed into law today by the governor.
This initiative, Senate Bill 2252, was sponsored by State Sen. Steve Stadelman (D-Rockford).
The idea was brought to the senator by Rockford-area resident Kevin Lunsford, whose minor son was arrested for a traffic offense last year. When Lunsford arrived at the Winnebago County Juvenile Center to bail out his son, the credit card machine was broken and the county has a policy to refuse cash.
Because of a technology malfunction, Lunsford's son was forced to sit in the juvenile center the entire weekend – significantly longer than the law requires and at taxpayer expense.
"With this common-sense new law, we have ensured that nobody will have to stay in custody longer because of a technology malfunction or a refusal to take cash," Stadelman said. "I would like to thank Kevin for contacting me about this issue, and I look forward to sponsoring legislation in the future that is brought to me by my constituents."
The governor also approved another legislative proposal sponsored by Stadelman today.
Senate Bill 2907 provides that, for the offense of criminal damage to property, institutional vandalism and criminal defacement of property, the damage must exceed $500 to increase the offense to a felony.
This legislation stems from a constituent case in Stadelman's district that brought into question why criminal damage to property had such a low threshold for being a felony.
Senate Bill 2252 and Senate Bill 2907 are effective Jan. 1, 2017.
Category: Press Releases