Published: Friday, March 21, 2014 04:20 PM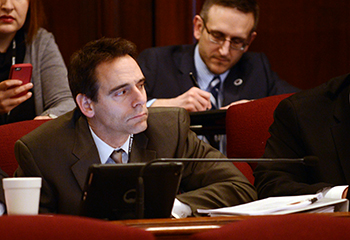 SPRINGFIELD – After listening to the Illinois State Police outline $49.2 million in budget cuts they will be forced to make next year, State Senator Steve Stadelman (D-Loves Park) is concerned about the safety of Rockford-area residents. If no action is taken, the state police will be forced to lay off 450 troopers and potentially close the Rockford forensics lab.
"The forensics lab in Rockford is a great resource not only to our area, but to all of northern Illinois. It will be impossible to perform forensics tests, like analyzing rape kits, to ensure that we are able to put violent criminals away," Stadelman said.
Due to a massive budget shortfall of nearly $2 billion, all state agencies presented the likely results of 20 percent budget cuts during a Senate budget hearing. Lawmakers are searching to find answers, but Stadelman maintains that safety funding must be kept in place.
Category: Press Releases