Published: Tuesday, November 16, 2021 10:01 AM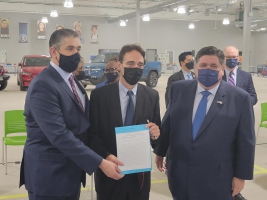 SPRINGFIELD – Backing his promise to expand electric vehicle production in both the Rockford area and state as a whole, State Senator Steve Stadelman (D-Rockford) championed the Reimagining Electric Vehicles in Illinois Act, which was signed into law Tuesday.
"This growing field indicates room for job growth in the electric vehicle market," Stadelman said. "Illinois is working to encourage electric vehicle manufacturers and their suppliers to keep and bring their production facilities here. That will lead to good paying jobs in Northern Illinois and across the state."
The new law creates financial incentives through tax credits for manufacturers of electric vehicles, parts, and power supplies. Businesses that are located in underserved areas or energy transition areas – a region with less than 100,000 residents with retired fossil fuel plants or closed coal mines – will be eligible for increased benefits.
To assist automakers to prepare their workforce for the shift to electric vehicle production, the law also provides tax credit incentives to help with training costs.
The Stellantis plant in the Rockford area is incentivized by this law to preserve and create jobs. Stellantis, which currently produces the Jeep Cherokee in Belvidere, is in the process of determining sites for manufacturing electric vehicles. REV Illinois would include tax credits and job training for auto makers and supply chain businesses that come to Illinois.
"A green future is here," Stadelman said. "With the signing of this law, Illinois is becoming a leader in electric vehicle production."
Illinois currently ranks ninth in the nation for auto production, employing more than 30,000 people. The state is already home to more than 5,000 workers in the electronic transportation industry, and these numbers are expected to double in the next two years.
House Bill 1769 was signed into law Tuesday and takes effect immediately.
###
Category: Press Releases