Published: Tuesday, November 16, 2021 01:42 PM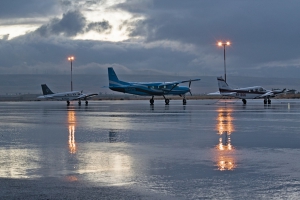 ROCKFORD – State Senator Steve Stadelman (D-Rockford) announced a $2.6 million investment that will bring hundreds of high-paying jobs to the area to the Rockford area Tuesday.
"The Rockford Airport is one of our region's strongest economic drivers, providing thousands of jobs in our community," Stadelman said. "This workforce funding will help fuel the airport's continued growth and innovation by investing in the training required for our residents to have access to highly skilled occupations being created here."
Stadelman has been working for years to get funding in the state budget for increased workforce support at the Rockford Airport. AAR Corp. has landed a major contract with airlines to ensure aircraft repairs can begin to take place at the Rockford Airport. The investment will bring many high-paying, highly-skilled jobs to the area.
AAR is poised for a significant expansion of its workforce in northern Illinois, including plans to hire up to 250 aviation mechanics over the next year as part of a recent agreement with United Airlines. These investments will allow AAR to hire personnel, help expand its partnership with Rock Valley College and develop new educational pipelines in high schools throughout northern Illinois, with training set to begin this spring.
State grant funds will support several of AAR's talent pipeline efforts to help grow the aviation technician pipeline in Rockford. Funding will be used to support the company in hiring training instructors, and to invest in training and capital improvements at the MRO training center to prepare trainees on the latest aircraft and equipment used by airlines and the industry today.
"Here we are talking about planes and making sure workforce funding is available for AAR to fix planes and create hundreds of new jobs for the region," Stadelman said at the press conference announcing the investment. "This workforce funding will help fuel AAR and continued growth here at the Rockford Airport. I can't wait for the future."
People interested in applying for one of the new jobs can visit AAR´s career page for more information.
###
Category: Press Releases