Published: Monday, April 18, 2022 11:01 AM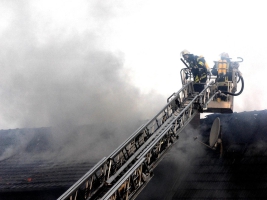 ROCKFORD – To help residents stay safe and avoid fires, State Senator Steve Stadelman (D-Rockford) is promoting the Illinois "Be Alarmed!" Smoke Alarm Program aimed to help them identify ways to make their homes safer.
"It is pertinent all families take the necessary precautions to keep your family safe from a fire," Stadelman said. "The first step to avoiding a disaster is through education."
"Be Alarmed!" is a fire safety education and smoke alarm installation program administered by the Office of the Illinois State Fire Marshal and the Illinois Fire Safety Alliance. The program distributes fire safety education materials and 10-year sealed battery smoke alarms to fire departments throughout the state who then install the devices and provide the materials in at-risk homes.
The program received a donation of 1,000 10-year sealed battery smoke alarms from Vision 20/20. Vision 20/20 partners with organizations and experts to help to identify gaps, evaluate and apply data-driven strategies and resources, and provide guidance in implementing adaptive measures to reduce fire and other risks.
Over the past four years, the "Be Alarmed Program!" has provided over 17,000 10-year sealed battery alarms.
"This program helps residents stay safe in an emergency," Stadelman said. "Through support from these organizations, we can make sure Illinois residents are ready in case trouble strikes."
Both the educational materials and smoke alarms are provided at no cost as a result of funding from both the IFSA and OSFM. People interested in participating in the program can visit https://www.ifsa.org/alarms.
###
Category: Press Releases