Published: Monday, August 14, 2023 03:33 PM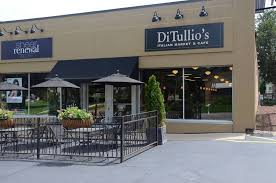 ROCKFORD – Local restaurants and hotels in and around Rockford will receive $1,228,157.04 in funding through the Back to Business grant program to help facilitate their recovery thanks to the advocacy of State Senator Steve Stadelman.
"We are still feeling the impact around the state from the troublesome years of the pandemic," Stadelman (D-Rockford) said. "Through this program we have delivered funding to businesses around the state in an effort to bounce back from the pandemic, and with today's investment, we are showing local restaurants that Illinois has their back."
"Words alone can't describe how much relief this B2B Grant Award means for us! It's a much needed lifeline that will help us get thru these ever changing times and tough challenges we face as small business operators." Anthony DiTullio, owner of DiTullio's said. "We're so grateful to be a recipient of this State of Illinois, DCEO Grant Award Partnership Program with Senator Stadelman."
Restaurants and hotels in and around the Rockford area receiving Back to Business grants include:
| | |
| --- | --- |
| Gyro House | Taco N Madres Restaurant |
| Schiro's | Giordano's of Rockford |
| La Casa Boricua | DiTullio's INC |
| Matt's Baseball Tap, LLC | DIYogurt, INC |
| Rockford Roasting Company, LLC | Dejuan Restaurant |
| SUBWAY | Stone Eagle Tavern INC |
| Holiday Inn Express | Sunset Motel |
| Alpine Inn | Radisson Hotel and Conference Center |
| IB Rockford Hotel Partners, LLC | Rockford and Candlewood Suites Rockford |
| M & M Motel Inc | Motel6/Studio6 |
| OG Rockford FFI LLC | Budget Inn |
| Shreeji Bapa Motel Inc | Holiday Inn |
The Back to Business grant program provides recovery grants to small businesses with an emphasis on businesses in the hardest hit industries. Through the state's Back to Business and Business Interruption Grant Programs, DCEO has provided more than $535 million to more than 15,000 businesses since the start of the pandemic.
To learn more about grant recipients and the Back to Business program, visit DCEO's website.
###
Category: Press Releases