Published: Wednesday, July 15, 2015 05:14 PM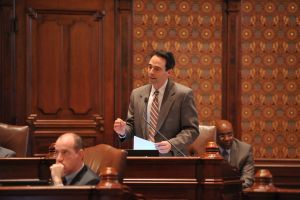 SPRINGFIELD – Senate Bill 316, a proposal for a two-year freeze on property taxes, failed in the Illinois Senate today. State Senator Steve Stadelman (D-Rockford) supported the legislation.
"Meaningful property tax relief is one of the most important issues to the Rockford area. Families and seniors who have lived in their homes their entire lives are being forced out of their neighborhoods because of skyrocketing taxes. It's truly unfortunate my colleagues couldn't support this legislation on behalf of middle-class families," said Stadelman.
Because of the current school funding, a significant portion of property tax dollars go to local schools. Senate Bill 316 also included a provision to end the current formula. Many studies show it is the most inequitable in the country and disproportionately hurts communities without vast local resources. Under the current formula, Rockford area schools don't receive their fair share of funding. The state would have two years to create a new formula.
"Illinois needs meaningful property tax relief and a more equitable solution to funding public schools. I will continue to work with my colleagues on both sides of the aisle to fix these problems plaguing working families," said Stadelman.
Category: News