Published: Thursday, October 13, 2016 03:41 PM
Courts reinstate same-day voter registration
Voters in Winnebago County will be able to register to vote and cast ballots on the same day after a federal appeals court last week temporarily blocked a lower court ruling against the legislation. The ruling suspends a court challenge to the law and allows same-day voting to occur Nov. 8 in Illinois.
Under the new law, supported by State Senator Steve Stadelman as an effort to expand participation in the electoral process, counties with more than 100,000 residents and smaller counties that keep electronic records must allow Election Day registration. The legal challenge came from a conservative policy institute that argued same-day voting slights rural areas that tend to favor Republican candidates.
Feds warn against 'race to the bottom' on workers' comp
The U.S. Department of Labor is warning of a "race to the bottom" across America as states strip workers of vital workplace protections so that companies can save on workers' compensation costs. Workers' compensation has been a key issue in Illinois, and Republican Gov. Bruce Rauner's agenda includes dramatic reductions in worker protections. The labor department's new report provides a disturbing look at what happened in other states when similar agendas took hold.
The report's authors conclude that although corporations may be saving money, the dismantling of workers' compensation benefits results in injured workers and their families being saddled with debt, forced into poverty and reliant on government welfare programs.
According to the report, released last week, "working people are at great risk of falling into poverty." It also says that benefits changes made across the country resulted in "the failure of state workers' compensation systems to provide [injured workers] with adequate benefits."
The labor department is calling for possible national minimum standards for workers' compensation benefits and federal oversight when states fall short. Without intervention, federal labor officials say, the system will continue to put injured workers "on a pathway to poverty."
Senate Democrats demand justice for sexual abuse victims
Former Speaker of the U.S. House Dennis Hastert is an admitted sex offender, but he is in prison for bank fraud, not sex crimes. That's because the deadline to prosecute his crimes against his former students ran out long ago, and Illinois prosecutors are powerless to do anything today.
State Senator Steve Stadelman supports lifting the statute of limitations for prosecution in child sex abuse cases in Illinois.
Two proposals to remove time limitations on prosecution of child sex offenders were the subject of a committee hearing last week in Chicago that featured testimony from Scott Cross, a former student, now 54, who Hastert abused when he taught and coached wrestling at Yorkville High School.
Harlem news conference focuses on unfair education funding
Harlem High School administrators, teachers and students conducted a news conference last week to shed light on the inequities of education funding in Illinois.
"We rely too heavily on property taxes, which forces higher local tax rates and results in inequitable funding in schools across the state," said State Senator Steve Stadelman, who also spoke and who has co-sponsored past legislation to attempt to change the state's funding formula.
Following the news conference, students on the "Link Crew" gave guests a tour of the school.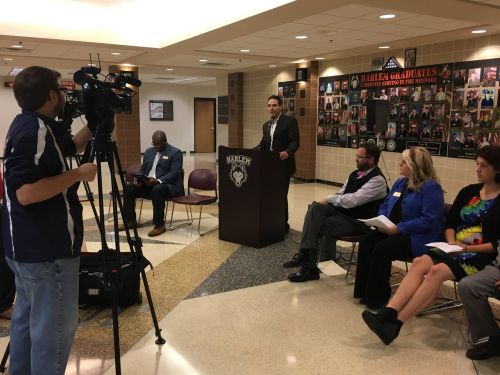 Category: Week in Review