Published: Thursday, November 03, 2016 10:30 AM
Stadelman encourages early voting
On Sunday Senator Steve Stadelman encouraged community members to cast ballots early in the November 8 election for federal, state and local offices. "There are plenty of options this cycle," Stadelman said. "An extended grace period allows voters to register at early voting sites. And for the first time in Illinois history -- thanks to a bill passed by the General Assembly last summer -- voters can register and vote on Election Day."
Under same-day voter registration, which Stadelman supported in order to make it more convenient for people to vote and participate in our democracy, counties with more than 100,000 residents must allow Election Day registration.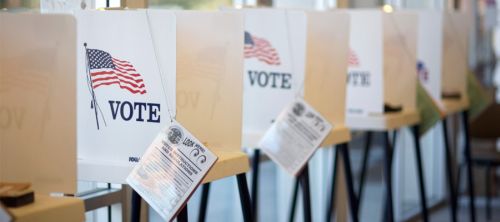 2nd annual Stadelman event offers free health services for women
Women can obtain referrals for free mammograms and screenings for cervical cancer, free blood pressure, blood-glucose and cholesterol testing, flu and shingles immunizations and more at Women's Health Fair organized by State Senator Steve Stadelman. Visitors also can enter prize drawings and enjoy complimentary refreshments including Jadabug Gourmet Roasted Coffee, harp and flute duets by Emerald Wind and alternative health services including aromatherapy, massage and facial demonstrations:
SUNDAY, NOVEMBER 13
1-4 PM
Kresge Hall at Riverfront Museum Park, 711 N. Main St., Rockford
(free parking at Discovery Center)
Stadelman coordinated the health fair for the first time in 2015, when the event drew about 250 women to the YMCA Log Lodge. The fair is moving in its second year to a larger venue to accommodate a growing number of nonprofit, private and government agencies wanting to participate.
"Many women remain uninsured or under-insured even in the age of Obamacare," Stadelman said. "I believe very strongly that a woman's ability to pay should never stand in the way of her receiving basic health care, especially preventive care. This event brings many types of medical and alternative health providers under one roof with food, music and gift drawings to make the experience more pleasurable."
Among more than 25 providers taking part in the fair are A Silver Lining Foundation, Crusader Clinic, MercyHealth, SwedishAmerican Women's and Children's Services, Walgreens, the Winnebago County Health Department, YMCA and YWCA.
Stadelman improved oversight of neglected children
Senator Steve Stadelman called last week for further improvements to how Illinois' child welfare agency goes about protecting abused and neglected children, despite technology upgrades to improve record-keeping.
Findings of an audit of the Illinois Department of Children and Family Services reveal that outdated technology – including software as old as 36 years – makes it difficult for the agency to accurately track children placed in emergency shelters, psychiatric hospitals and other facilities. Stadelman supported legislation requiring the audit to ensure children in DCFS care do not remain in psychiatric hospitals, emergency shelters or detention centers for longer periods of time than necessary. The findings, released in September, show DCFS did not track and could not provide most of the data requested.
"DCFS cannot operate with antiquated technology that lets our most troubled youth to slip through the cracks," Stadelman said. "Some progress has been made, but more work remains to be done so that no child who has been abused or neglected gets left behind by the state."
Since the audit, DCFS has updated several of its computer systems and has plans to upgrade others in the coming months, allowing the agency to provide accurate, up-to-date information.
Category: Week in Review