Published: Friday, December 16, 2016 04:13 PM
Senate overrides automatic voter registration veto
An automatic voter registration system that would streamline elections, save money and reduce hassles for the average Illinoisan is closer to becoming law thanks to Illinois Senate Democrats.
Senator Steve Stadelman called automatic registration a common-sense, good-government measure that forces the bureaucracy to work for the people rather than the other way around.
"Automatic voter registration is growing in popularity across the country," said Stadelman, a co-sponsor of Senate Bill 250. "There's no good reason to require citizens to register to vote separate from when they get their driver's license when we have the technology for a seamless and secure one-stop process."
Republican Gov. Bruce Rauner vetoed the legislation even though he had previously expressed support and despite bipartisan approval in both the Illinois House and Senate earlier this year. Although all but one of the original Republican supporters backtracked, the Senate override now leaves the question in the hands of the Illinois House.
Stadelman: Protect benefits for child care workers
The Illinois Senate also voted to override Gov. Bruce Rauner's veto of a bill to stop the governor from harming the state's child care system by cutting heath care benefits for child care workers.
Qualified child care providers already receive health insurance through the Illinois Department of Human Services, but Senator Steve Stadelman co-sponsored legislation that prevents the Rauner administration from having an opportunity to take away benefits from workers.
"Few jobs are more important than caring for our children," Stadelman said. "The people who look after our children shouldn't have to worry about their health care."
Senate Bill 2536 updates training requirements for child care providers to ensure Illinois is compliant with new federal guidelines. The override is now pending in the Illinois House.
Stadelman recognizes two for work with homeless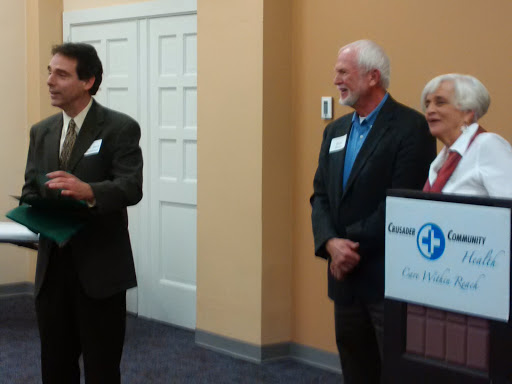 State Senator Steve Stadelman presented Certificates of Recognition from the Illinois Senate to Fran
Middleton and Brad Roos for their efforts to improve the lives of the homeless in the Rockford area.
The retired executive directors of MELD and Zion Development received the honor during a luncheon
given by the Rock River Homeless Coalition in observance of National Hunger and Homelessness Week.
Category: Week in Review