Published: Thursday, March 15, 2018 09:02 AM
Marijuana question may go on November ballots statewide
Illinois voters may get the chance to let their voices be heard on legalization of cannabis under legislation passed in the Illinois Senate last week. The legislation, Senate Bill 2275, would place an advisory question on the 2018 ballot asking Illinois voters if they are in favor of marijuana legalization.

State Senator Steve Stadelman, who voted in favor of putting the issue before voters in November, says the advisory referendum will help legislators gauge public opinion on the subject. Most states that have legalized recreational use of marijuana have done so through ballot initiatives.

As proposed, the referendum would ask this "yes" or "no" question: "Do you support the legalization of possession and use of marijuana by persons who are at least 21 years of age, subject to regulation and taxation that is similar to the regulation and taxation of tobacco and alcohol?"

If passed in the House and signed by the governor, the bill only would set the non-binding referendum in motion, not legalize the sale of recreational marijuana.

Legislative committee investigates Rauner inaction on veterans home
Lawmakers in Springfield expressed frustration this week over Bruce Rauner's failure to rid the Illinois Veterans Home at Quincy of the deadly Legionella bacteria after a top official in governor's administration revealed a change of strategy that is presumed will only cause more delays.

During a legislative hearing this week, Veterans Affairs Director Erica Jeffries said the Rauner administration now plans to tear down the residence halls where 13 deaths have been attributed to Legionnaire outbreaks since 2015. Jeffries had no cost estimate for the solution, only a timetable of three to five years. Previously, the governor was exploring the cost of replacing old plumbing.

Later in the week, U.S. Senators Dick Durbin (D-Ill) and Tammy Duckworth (D-Ill) once again urgently requested from Rauner a detailed plan of action for ensuring the safety of residents, family and staff at the home. They also pressed for acceptance of the U.S. Department of Veterans Affairs' offer of technical assistance – which includes a site visit to the Quincy home – as well as ongoing VA financial support and expert assistance from the Centers for Disease Control and Prevention.

The Rauner administration claims a preliminary report will be issued by March 31.

In case you missed me on Facebook ...
Steve Stadelman added 3 new photos.
March 7 at 8:54pm ·
Another boost for downtown Rockford! The popular City Market is expanding. A "wall breaking" ceremony starts construction on an indoor City Market building next-door. Congratulations to Rock River Development Partnership for its work in making the project possible.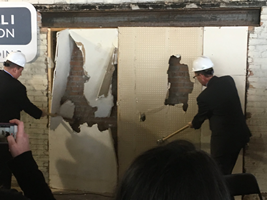 Steve Stadelman
February 20 ·

Congratulations to members of Unity Church in Rockford who presented the results of their Teddy Bear Project to Children Home + Aid today. The gently used stuffed animals were kept in the church sanctuary as they were being collected, and thye were held by churchgoers who "filled them with love" during Sunday services. Organizers like Alice Stacionis hope The Teddy Bear Project brings comfort to vulnerable children in stressful circumstances.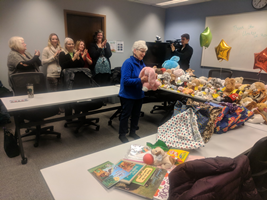 Category: Week in Review