Published: Monday, August 06, 2018 04:09 PM
Stadelman named Legislator of the Year
State Senator Steve Stadelman has been named Legislator of the Year by a preservation group for his work to expand the River Edge tax credit for redevelopment of historic property. Stadelman passed legislation to continue the tax credit for four years and expand the program statewide.
Originally, the economic incentive only was available in Rockford and four other communities. Projects like the $12 million Prairie Street Brewhouse in downtown Rockford have been made possible because of the tax credit, equal to 25 percent of rehabilitation costs.
Landmarks Illinois is presenting Legislator of the Year along with its President's Award jointly to Stadelman, State Senator Pamela Althoff of McHenry and State Representatives Steven Andersson of Geneva and Jehan Gordon-Booth of Peoria during an awards ceremony in Chicago in September.
"All four of these lawmakers have been champions of historic preservation and instrumental in helping to enact preservation legislation in the State of Illinois," the nonprofit group stated this week in a news release that referred to the River Edge expansion as "a major accomplishment for the state and preservation community."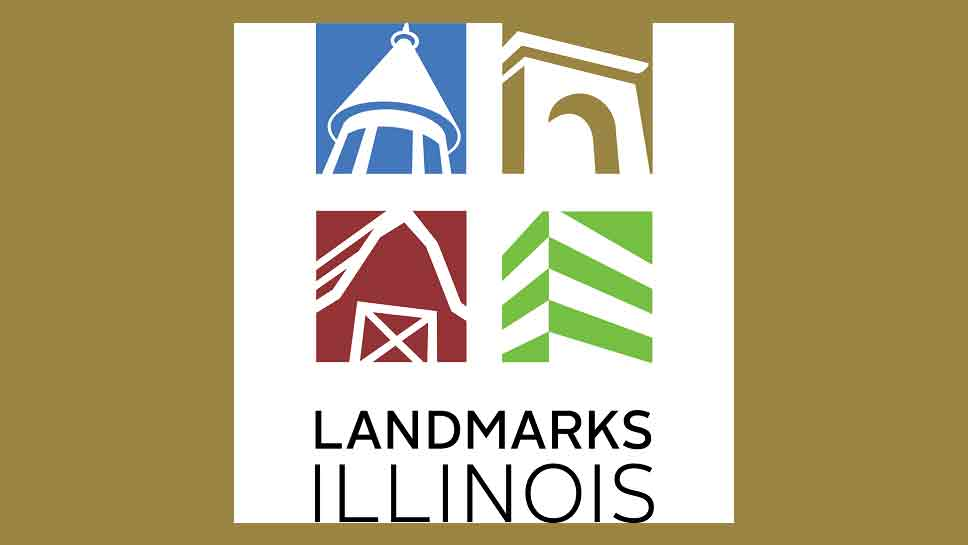 HoopStars returns for 6th year
Sports Factory again hosts free Labor Day youth tourney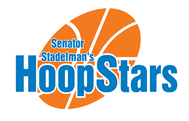 Hundreds of boys and girls can spend Labor Day on the basketball court at Senator Stadelman's HoopStars, a free 3-on-3 tournament taking place for the sixth time Sept. 3.

Online registration is open now through game day at www.senatorstadelman.com, Stadelman announced this week. There are no fees to enter.
The popular event, which has drawn as many as 400 players in 3rd through 8th grades, returns to UW Health Sports Factory for a second year after three years on outdoor courts at Davis Park.
Air-conditioning and ample parking are among the amenities that proved popular with parents and players in 2017. The increase in available game surface allowed for warm-up courts and reduced wait times between rounds in the single-elimination, two-game minimum competition.
"Our venue has changed, but the primary goal remains the same – to provide a positive, no-cost activity for boys and girls as summer ends and the school year begins," Stadelman said. "We've become a Labor Day tradition for some families, and that wouldn't be possible without the continued support of the Rockford Park District and faithful financial contributors like ComEd and Comcast."

All players receive free commemorative event T-shirts, and winning teams take home medals. Event sponsors operate interactive courtside information booths with giveaways, and refreshments are available for purchase.

Stadelman launched the tournament in 2013, his first year in elected office. The inaugural games were at Patriots Gateway.

Flood heroes receive Senate honors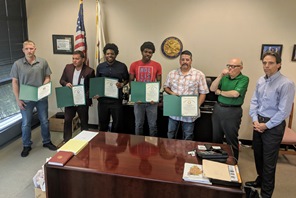 State Senator Stadelman presented Certificates of Recognition from the Illinois Senate to the three men and two students whose heroic efforts saved a 70-year-old mortician from drowning in a flash flood in June and received international attention.
Ryan Craig (far left) and Mark Pickett (3rd from right) pulled Bruce Salley (next to Senator Stadelman) from his car, which became pinned against a guardrail along Keith Creek and engulfed by rushing water. Manuel Meza, Markinez Gray and Demari Hart (2nd, 3rd and 4th from left) assisted in the rescue in the parking lot of Rockford Plaza at Charles and 20th streets. Gray and Hart are East High School students and swim instructors at Alpine Pool.
"The photos from that day are so compelling, and I have so much respect for what all of you did," Stadelman said. "Not everyone would have shown the same bravery and rapid response."
It was the first time Salley and his five rescuers had been together since the storm. Video of their efforts went viral on the internet, and their story was reported in the Chicago Tribune and on "Good Morning America" on ABC.
Category: Week in Review