Published: Wednesday, January 30, 2019 08:38 AM
Stadelman requests 'most endangered' status for historic chancery, convent
State Senator Steve Stadelman is asking Illinois' leading preservation agency to place a 90-year-old Catholic chancery, convent and school on Rockford's northwest side on its list of Most Endangered Places, a designation likely to bring wider attention to help save the ornate buildings from demolition.
Never has a Rockford structure been featured since the nonprofit Landmark Illinois first issued the annual list in 1995. The list includes the twice-named Cook County Hospital, where a $1 billion renovation is underway to turn the massive Beau Arts building into a hotel, office and retail space. The 102-year-old hospital shares its architectural style with the chancery, headquarters of the Rockford Catholic Diocese from 1929 until 2002.
Workers hired by the diocese were stripping the chancery of decorative fixtures including chandeliers, wrought-iron gates, windows and the arched wooden doors at its front entrance when municipal officials issued a stop-work order Dec. 19, Stadelman said in his nomination of properties surrounding the Cathedral of St. Peter on what was once known as Piety Hill. The school is slated to close permanently at the end of the academic year, and the diocese had announced plans to raze the chancery while students were on Christmas break.
"The threat is real and imminent," wrote Stadelman, named Legislator of the Year by Landmarks Illinois in 2018. "These buildings are aesthetically and culturally important to the Signal Hill neighborhood."

Stadelman received the award for his work expanding the River Edge historic tax credit to a statewide program from a redevelopment incentive previously available only in Rockford and four other Illinois communities. Local urban renewal efforts benefiting from the tax credit include the Praririe Street Brewhouse and Amerock Embassy Suites, scheduled to open in January 2020 in a long-vacant industrial high-rise on the downtown riverfront.

In advocating for preservation of the Piety Hill campus, Stadelman cited the architectural significance of the three buildings (the school opened in 1921, eight years before the chancery and convent) and applications for local landmark status already filed by a citizens group. Stadelman also noted the number of signatures (currently approaching 3,300) an online petition launched by former Rockford Mayor Larry Morrissey and an overture by current Mayor Tom McNamara to work with the diocese to find an alternative to demolition.

Stadelman commends new governor's focus on putting people to work
State Senator Steve Stadelman is encouraged by Gov. JB Pritzker's efforts to make sure the state's workforce training programs are putting people to work and identifying new jobs and industries for Illinois' future.

Pritzker has given state agencies a 90-day deadline to come up with ways for Illinois to better align workforce development programs with employer needs, especially those in emerging industries like renewable energy. The governor issued an executive order calling on the Department of Commerce and Economic Opportunity to compile the recommendations in a report due in April.

Stadelman praised the governor's prompt action and the common-sense strategy of smart use of state and federal resources.

"In all areas of government, we should strive for highest return on our investment," Stadelman said. "In the case of workforce development, we should be teaching people the skills they need in the fields where they can get jobs and should be targeting our most disenfranchised communities."

In case you missed me on Facebook...
Steve Stadelman
January 12 at 7:08 PM ·
Despite the snowstorm, Governor-elect JB Pritzker came to Rockford this afternoon. He stopped at a residence and spoke with Red Cross volunteers who installed life-saving smoke alarms in homes across the city as part of the "Statewide Day of Service."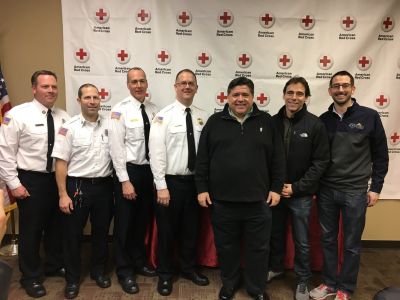 Category: Week in Review