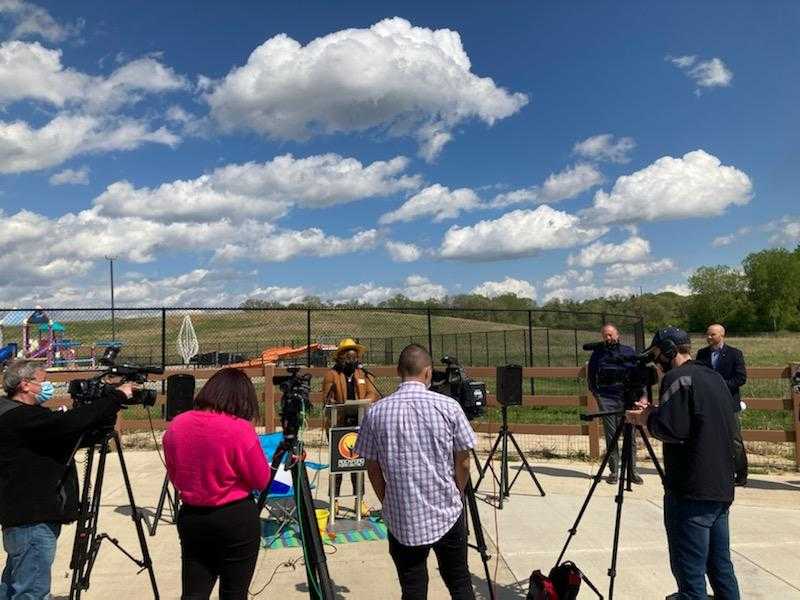 LOVES PARK - After being closed for three summers, Sand Park Pool will reopen June 12, in large part because State Senator Steve Stadelman secured $260,000 to make critical repairs and upgrades.
The public pool shut down in 2018 when the Rockford Park District could neither afford nor further delay deferred maintenance that included concert repairs and replacement of filters and chemical controls. At the same time, environmental remediation was about to begin on the former Sand Park landfill site, including the conversion of a sledding hill and golf driving range into a nature preserve.
Senator Stadelman dedicated $260,000 in ReBuild Illinois capital funds for the needed repairs to save the pool as a summertime recreational opportunity for Loves Park families. Besides the pool repairs, state funds awarded through Stadelman also are paying or will pay for LED lighting, new motors for water slides in "Penguin Pond" wading pool and oversized, permanent "funbrellas" to offer shade.
"Sand Park Pool is one of many Rockford Park District amenities that improve our quality of life and make our region an attractive place to live," Stadelman said. "I believe investing in our recreational infrastructure is a smart use of state resources."
Stadelman recently pledged $2.5 million in capital funds at his disposal to help address $6 million in deferred maintenance that had threatened to permanently close Riverview Ice House in downtown Rockford, among other Park District initiatives for which he has obtained financing since taking office in 2012.
Sand Park was scheduled to reopen in 2020, but COVID-19 prevention required the Park District to close all three of its public pools last season. The other two, Alpine and Harkins, are scheduled to open June 19. All three will require online reservations for two-hour blocks of time.
"Reopening of Sand Park and our other public pools signals, I hope, a return to normalcy this summer despite the ongoing global pandemic -- or at least a big step in that direction," Stadelman said. "It's an opportunity for kids and families to get outdoors and enjoy summer activities that has been sorely missed in Loves Park."
Category: Press Releases